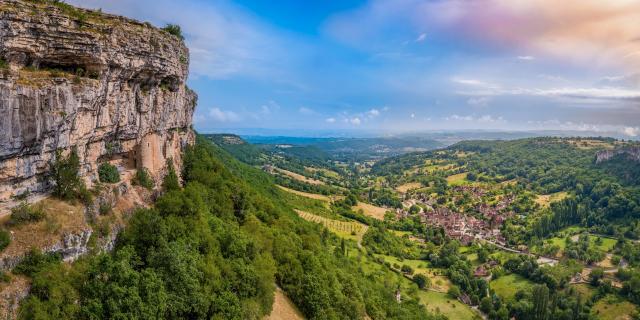 Explore the Lot
The subsoil of the Lot is equal to what we discover on the surface: richness and beauty !
Towns and villages of the Lot
Whether they are classified or not, the villages and small authentic towns make the charm and richness of the Lot
Caves and chasms
How can you imagine, while walking in the Lot, in its causses and valleys, that an incredible underground life exists. You can rediscover your child's soul by discovering the magical world of caves. If the most known are Padirac, Cougnac, Lacave, Pech Merle, the phosphatières of Cloup d'aural or the cave of the wonders in Rocamadour and the small last one the cave of Carbonnières in Lacave, there are a lot more which will keep their secrets forever.
Nature activities
Enjoy breathtaking landscapes while practicing your favorite activity.
Hiking on the causses, cycling through the vineyards, boating down the Lot or canoeing on the Dordogne, the Lot is an incomparable nature destination.
Flavors of the Lot
Land of excellent local products and gastronomy, the Lot awakens all the taste buds.
From the market stall to the menu of starred restaurants, you can taste black truffles, Rocamadour cheese accompanied by a glass of Cahors wine, Quercy melon, saffron, or Quercy farm lamb… All the flavours and quality of local products can be found in your plate.
Unesco Global Geopark
A renowned heritage
Prehistory, geology, built heritage… the Unesco Global Geopark reveals an internationally recognized heritage.