Domaine de la Source Bleue - La Tour
Guesthouses
at Touzac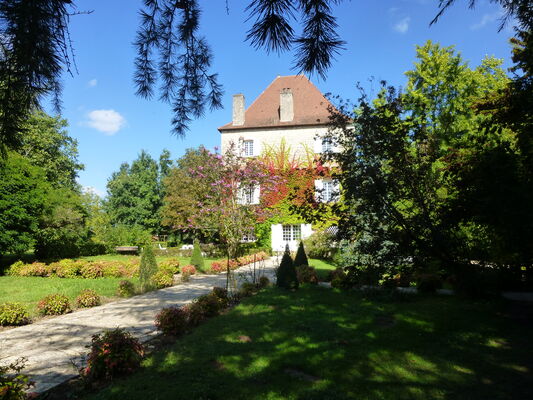 Domaine de la source bleue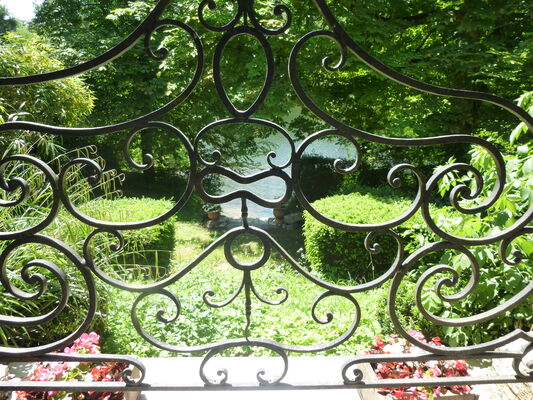 Domaine de la source bleue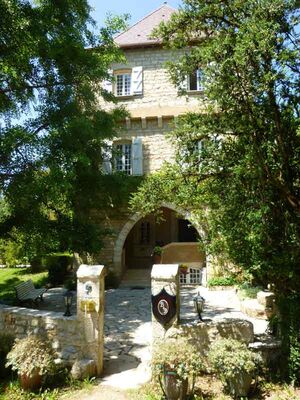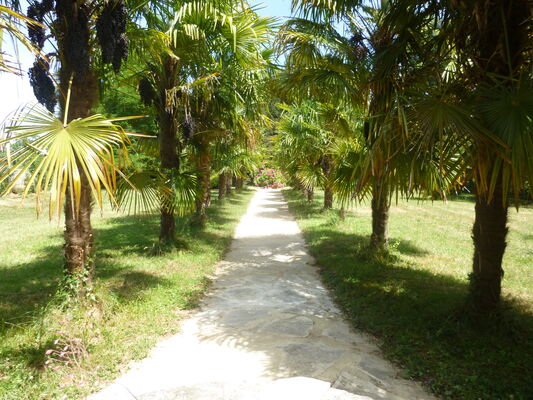 Domaine de la source bleue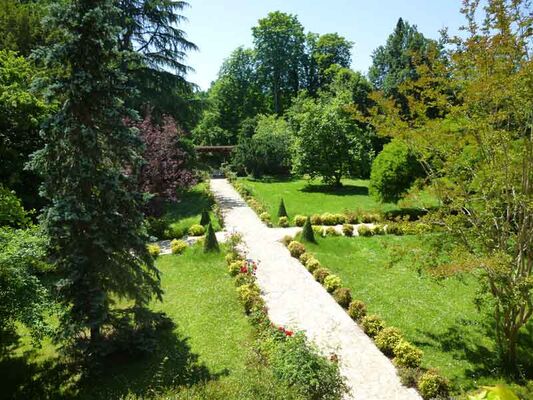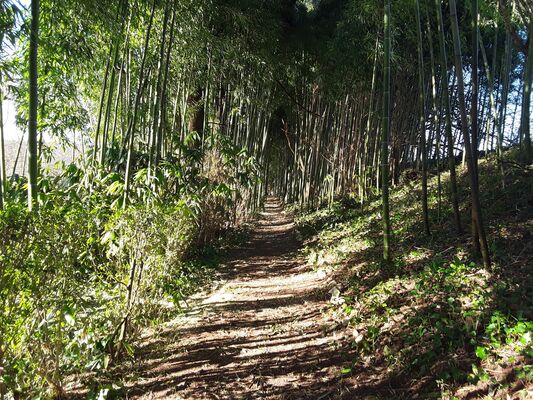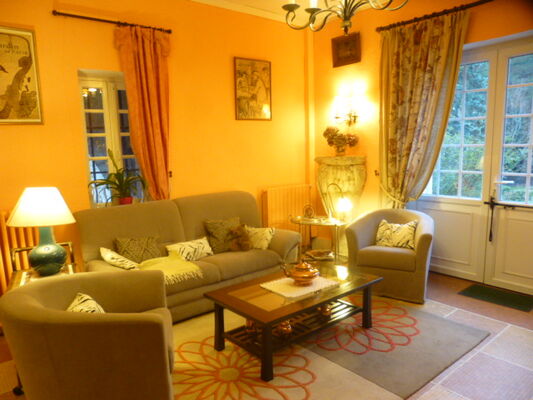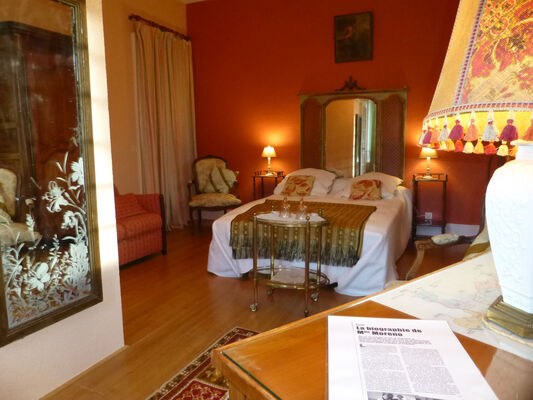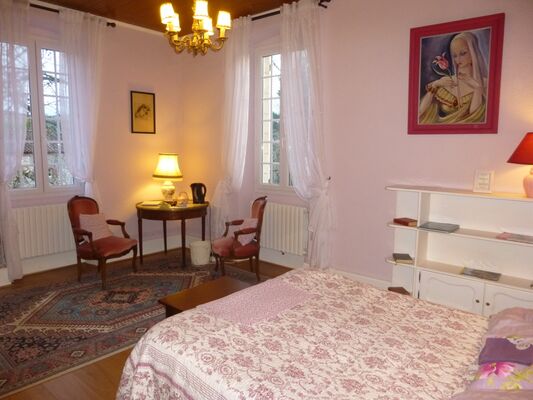 Family home since the 15th century, many generations can tell its history.
The mill that raised him from the ashes, thanks to the blue source , turquoise alcove shaded with giant bamboos. The palm grove singing oriental songs. The vine and its Cahors wine which was already recognised at the "Coupole" in Paris and in London. A refuge for artists marking their passage: Paintings, poetry, writings. « Colette" from the French academy and her great friend "Marguerite Moreno", muse of the symbolist artists at the Musée d'Orsay, Charles Trenet who played the "Route Enchantée" in Touzac, Jean-Claude Brialy who told the story of the place in the play "La Source Bleue".
You are welcome by the water, no matter what time it is and where you are from.

Capacity

Accommodation :

8 Person(s)

Bedrooms :

4 Bedroom(s)

Spoken languages
Amenities

Internet access
Heating by oil fire
Electric heater
Fireplace

Sheets and linen included
Baby's bed
Hair dryer
Free WIFI

Equipment

Bike shed
Artificial lake
Bike / mountain bike
Owner nearby
Courtyard
Separate entry
Floor
Garage

Common garden
Car park
Private bathroom
Garden lounge
Private plumbing
Non-enclosed plot of land
Terrace

Services

Pilgrims welcoming service
65 €

70 €

18 €
65 €

70 €

18 €
Openings

From

May 4, 2019

until

October 31, 2019

From

May 1, 2020

until

September 30, 2020
Domaine de la source bleue
Domaine de la source bleue

Domaine de la source bleue
Leave a review about Domaine De La Source Bleue - La Tour :
Bad

Average

Good

Very good

Excellent
Außergewöhnlich : Moïse hat seine Wahl getroffen !

Ein unerwartetes B & B an einem geschichtsreichen Ort und ebensolchen Gast-gebern. Ausserhalb, südlich vom verträumten Dorf Touzac, am Fluss Lot, im gleichnamigen Departement, liegt ein großzügiges Familiengut. Das gewaltige Einfahrtstor kann man nicht verfehlen. Dann sieht man rechts ein turmartiges Wohnhaus, in dem die Gastgeber wohnen und in dem sich auch die geschmackvoll eingerichteten Gästezimmer befinden. An der Namensbildung sind die in einem Bambushain gelegene <blaue Quelle> und der <Turm> wohl gleichermassen beteiligt. Das Anwesen liegt in einem grossen, parkähnlichen Garten am Flussufer, mit Rosenbeeten, Palmenalleen usw. Die Ruhe ist vollkommen und im Sommer spenden die dicken Turmmauern eine erfrischende Kühle. Teile der Gebäude gehen bis in das 14. Jh. zurück und sind seit dieser Zeit im Familienbesitz. Die Grossmutter der heutigen Besitzerin war in der Film- und Theaterwelt unter dem Namen Marguerite Moreno (1871 – 1948) bekannt und hat in zahlreichen Stumm- und Spielfilmen, sowie Theaterstücken unvergessliche Rollen besetzt. Und dann ist da noch ein Hund, ein pechschwarzer Riesenschnauzer, er ist vor einiger Zeit vom anderen Flussufer herüber geschwommen und seitdem geblieben. Man hat ihm den Namen Moïse (= Moses) gegeben. Seine sonore Stimme erschreckt neue Gäste, aber das wird durch das Wedeln des Schwanzes sofort wieder entschärft. Moïse hat es richtig gemacht – er ist geblieben ; wir wären auch gerne geblieben … !

Tout simplement enchanteur !

Nous avons découvert le Domaine de la source bleue - La Tour lors d'une étape sur le chemin de St Jacques. Le lieu est tout simplement enchanteur. Nos hôtes sont charmants, avides de nous faire partager ce havre de paix. La source bleue à proximité : quelle beauté ! Catherine et Pascal

La Source Bleue : Que du Bonheur

Nous venons depuis plusieurs années dans ce cadre magnifique avec des propriétaires qui nous accueillent avec beaucoup de chaleur, de gentillesse et toujours à nos petits soins. A chaque séjour j'en suis enchantée. Je recommande cette adresse à toutes personnes qui désirent le beau et le calme. Ils ne seront pas déçus. D'ailleurs j'y retourne dans quelques jours. La Source Bleue : Que du Bonheur

Magnifique séjour dans un lieu très chaleureux et avec un personnel très attentionné

Nous sommes arrivées complètement par hasard, et nous reviendrons très certainement. Séjour enchanteur. Tout était parfait !

Mme & Mr Rostand Un endroit très calme avec beaucoup de charme, des propriétaires très sympathiques. Nous avons été enchantés de notre séjour passé en ces lieux. Je le recommande Nous en gardons un excellent souvenir.

On arrive en clients, on repart - à regrets - en amis. Le lieu est magique et tout respire le calme et la sérénité. Il est très difficile de quitter cet endroit enchanteur, et l'accueil des propriétaires n'y est pas étranger. Déjà, nous cherchons à quelle date nous allons y retourner. Et il y a tant de découvertes à faire dans la région. Allez-y, vous ne le regrettez pas. Marie Hélène - Jean Denis

La source Bleue : Calme et volupté

Loin de la fureur des villes - la source bleue est un de ces lieux qui font que la "dolce vita" est encore possible… l'accueil y est chaleureux et sincère : Virginie et Rutger les propriétaires, après avoir passé quelques jours avec eux, feront partie de votre famille… l'ensemble dans un environnement d'une beauté à coupé le souffle. Une adresse que je recommande absolument !

Loin de la fureur des villes et des vaines agitations - la source bleue est un endroit baigné par la grâce du Lot - un environnement digne de certains contes : la magie est au rendez vous - l'accueil y est unique car chaleureux et sincère - à ne pas manquer si vous passé dans cet région si magnifique !

Loin du monde, du bruit et de la fureur des villes… La source Bleue est un lieu rare de par sa quiétude, et de la beauté de son environnement - L'acceuil y est chaleureux, bienveillant et amical… une adresse à ne pas manquer dans le Lot.

Des hôtes devenus des amis

Je viens chaque année dans la région, notamment pour assister aux répétitions et concerts des festivals de Belaye et Montcabrier, au début du mois d'Août. Mon point d'attache est La Source Bleue, belle maison chargée d'art et d'histoire où je suis accueilli en ami. Discrétion, élégance, gentillesse, paix. On devrait se battre pour y trouver une place!

We have spent several wonderful stays at La source Bleu. The welcome is always very warm the Hosts do everything to make your stay enjoyable. The bedrooms are comfortable clean and unique, each room has its own individuality. An enjoyable evening meal can be had on request often eaten in the garden of this property shaded by trees. The small chateau has a river frontage, and it is really calming to sit and watch the river gently flowing past. We have yet a find an chamber de hotes that we enjoyed more.

Jolie demeure en bordure du Lot où l'accueil et la cuisine de Virginie sont à la hauteur de ce cadre magnifique et plein d'histoire. La rubrique "chambre d'hôtes au bord du Lot " et "wifi gratuit" n'apparaissent pas aux encadrés du site, c'est bien dommage ! De même le village de Touzac n'est pas mentionné sur la carte.

Petit coin de paradis au bord du Lot

Un petit coin de paradis au bord du Lot où l'on se plaît à retourner chaque année (depuis 2009) L'accueil est chaleureux. Adresse à recommander sans hésitation.

Nous venons de passer 2 nuits calmes et reposantes dans cette belle demeure pleine de charme et d'histoires d'artistes. L'accueil y est irréprochable et chaleureux, un vrai plaisir. Le calme de la nuit permet de se reposer des balades de la journée dans une région pittoresque, un vrai régal. Encore merci pour ce séjour et peut être à l'année prochaine.